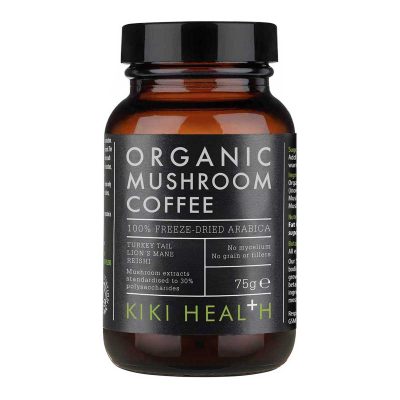 KIKI HEALTH Pure Marine Collagen Now avaliable in VegiCaps & Powdered forms.
Organic Mushroom Coffee 75g
KIKI HEALTH's organic 100% Arabica coffee and useful, organically-certified mushroom extracts from the fruiting bodies of Reishi, Turkey Tail, and Lion's Mane mushrooms are combined to create their most anticipated product on the market: The organic mushroom coffee! All of the mushrooms were naturally raised on nutrient-rich wood or vegan substrate, producing powerful and superior extracts with a standardisation of 30% beta-D-glucan polysaccharides, the most significant component in mushrooms. KIKI HEALTH extract the key functional components from the mushroom cells using temperature-controlled technologies, they then obtain the maximum concentrations of active nutrients using this cutting-edge production technique, which results in full-spectrum extracts.
100% Arabica coffee that has been frozen (Caffeinated and Decaffeinated)
full-spectrum extracts of mushrooms.
extraction of mushrooms from fruiting bodies.
grown in a vegan environment.
standardised to have polysaccharides rich in beta-glucan at 30%.
Non-GMO.